Upcoming Events
Maybe say something here to get people excited about events at the shop and use this button to sign up people up for your mailing list (do you have one?) or to follow you on Instagram.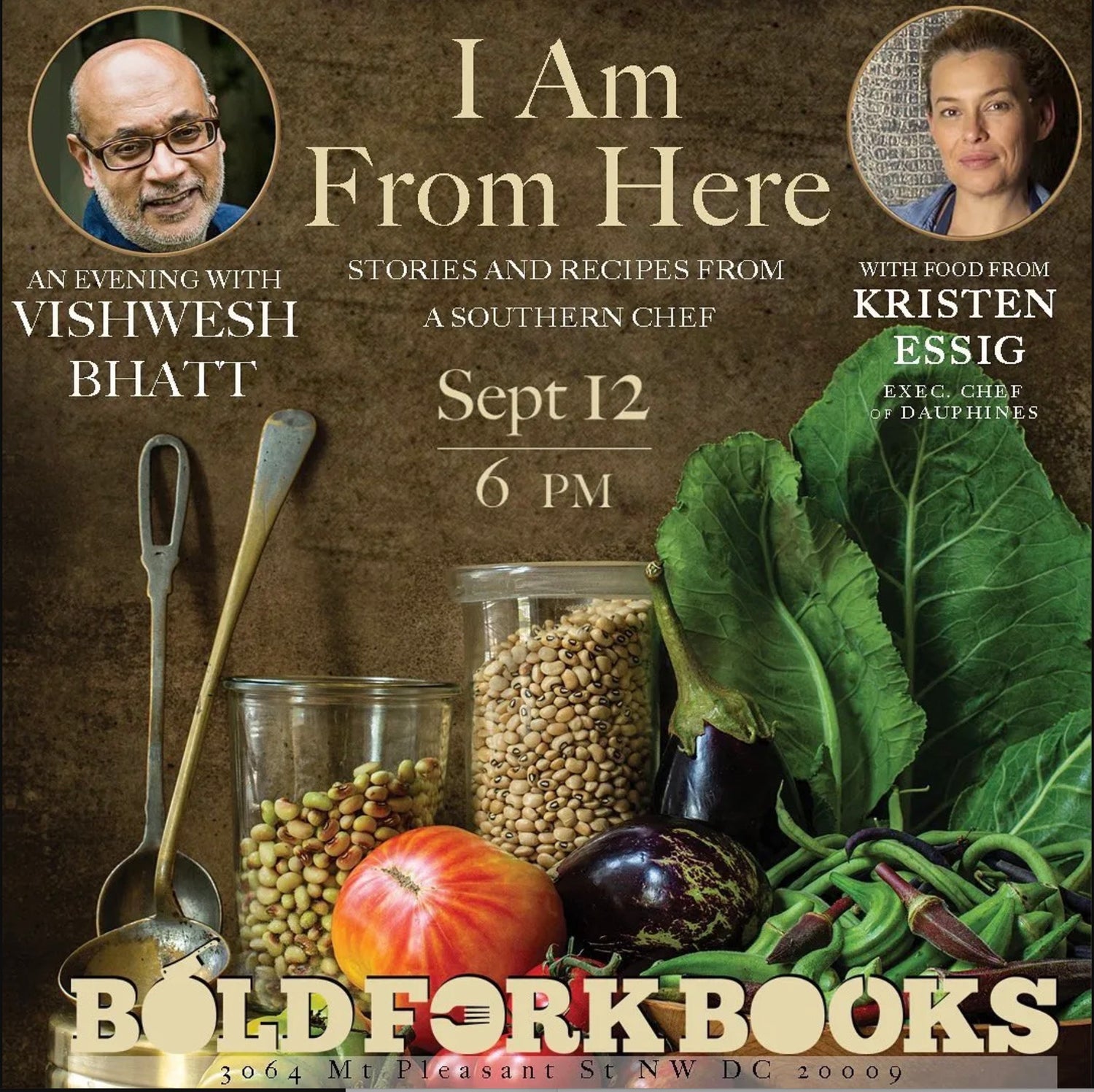 I am from Here: Stories and Recipes from a Southern Chef with Vishwesh Bhatt
Feast on flavors from the book by Chef Kristen Essig of Dauphine's (!!!) and explore the intersections, commonalities and differences between the food of Bhatt's childhood home-- the Indian state of Gujarat-- and his home of more than two decades, Oxford, Mississippi.
As he began his cooking career and immersed himself in the ingredients of the American South, Bhatt couldn't help but notice the similarities to those he grew up with, including rice, peanuts, spices, tomatoes, and okra. In his long-anticipated cookbook, he shares his worldly life story through 130 recipes that pay homage to traditional southern and Indian ingredients while exploring the unexpected delight of partnering the two. From Tandoori-Spiced Baked Catfish to Sweet Potato Turnovers with Cardamom and Black Pepper, the resulting recipes are accessible enough for a midweek dinner and stunning enough for any dinner party.

I AM FROM HERE makes an elegant, delicious case that a more expansive, inclusive South is a more delicious South—for everyone. Tickets will go fast for this one, but you know the drill: the link is in the bio.
Register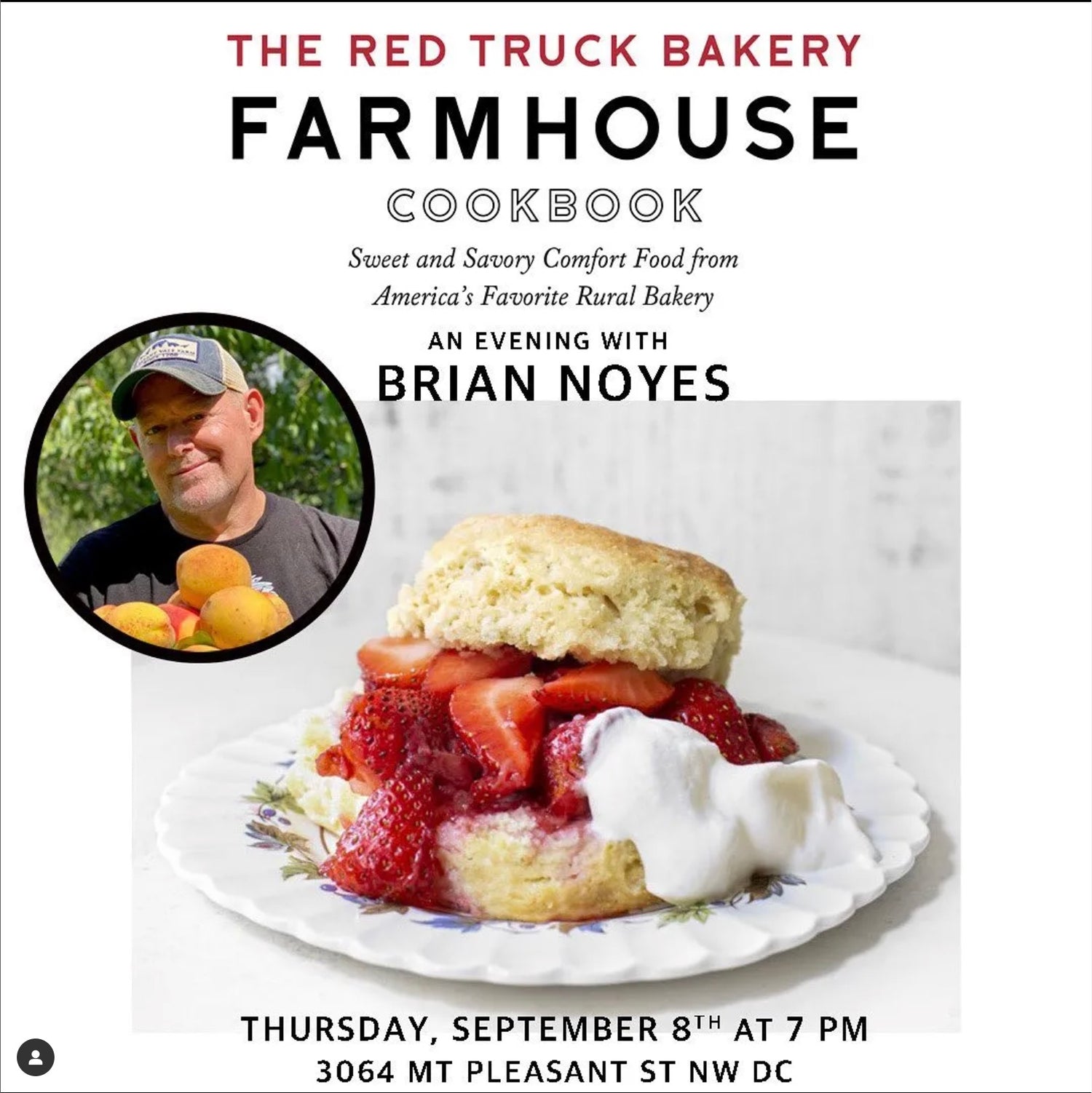 An Evening with Brian Noyes - Red Truck Bakery Farmhouse Cookbook
Here at Bold Fork Books, we are unabashed in our love for all things@redtruckbakery- Like all good Washingtonian food lovers, we carefully plan every trip south around a leisurely lunch stop to indulge in all of our favorites (Lexington Bourbon Cake I'm looking at you). 

In his newest cookbook, The Red Truck Bakery Farmhouse Cookbook, founder Brian Noyes continues telling stories of the south through cooking. With small-town charm, an emphasis on local, seasonal produce, and country comfort inspiration from the 170-year-old farmhouse where the bakery began, The Red Truck Bakery Farmhouse Cookbook features Brian's favorite savory recipes and old-time classics from family, friends, and the bakery archives. From Mid-July Tomato Pie to Virginia Peanut Pie to the Bakery's beloved "Beetloaf" Sandwiches, there is something here for everyone.

Brian's unique professional experiences (while he was the art director at The Washington Post and Smithsonian magazines, he baked pies and breads on weekends and sold them out of an old red truck he bought from designer Tommy Hilfiger!) have given him a rare perspective that will interest both bakers and small business owners alike. How do you translate home recipes for a restaurant? How do you create something that people trust and that stays consistent? How do you grow in a conscientious and thoughtful way? And dear god, how do you get the Honeysuckle & Sweet Tea Cake to taste like that? 

Join us in the store on September 8 for an enlivening evening of insider stories, kitchen secrets, recipe tips and delicious snacks to celebrate The Red Truck Bakery Farmhouse Cookbook! Link in bio to register!
Button label